MIDTOWN
Midtown Edition: 3400 North – 7499 North:
---
Indiana State Fairgrounds:
Midtown Indy is bordered by Nora to the North spanning approximately 3400-9499.  Fall Creek, Fairgrounds, Butler-Tarkington, Canterbury, Meridian-Kessler, Broadripple, and Nora.
---
Butler University:
Anchoring the Westside of Midtown and located at 4600 Sunset Lane, Butler University campus offers Hinkle Fieldhouse, Butler Bowl, Holcomb Observatory & Planetarium, Clowes Memorial Hall along with a beautiful campus.
---
Broadripple Village: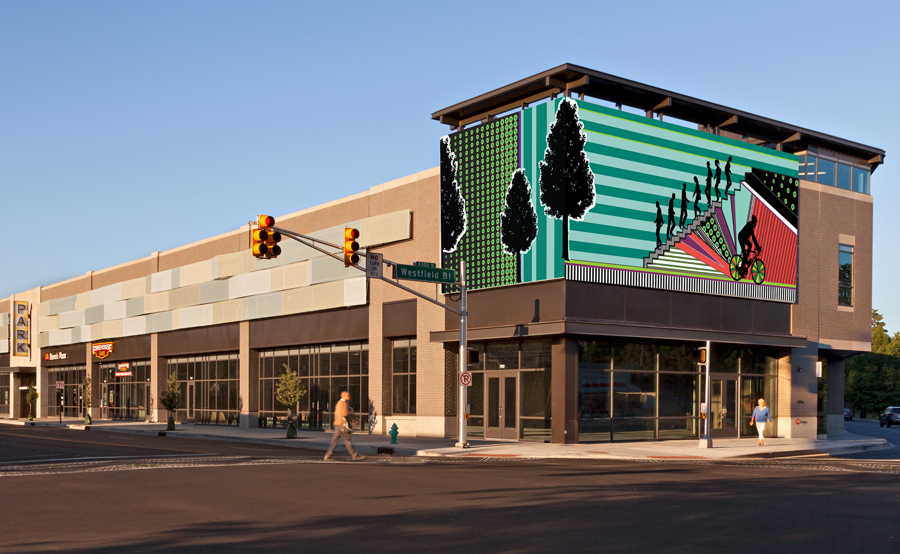 Pictured above is the Broadripple Parking Garage, located at the convergence of Broadripple Avenue, College Avenue and Westfield Boulevard.  Caddy corner and pictured below is a new development anchored by a food market, with parking and apartment living located on the Broadripple Canal.
Just out of sight is the above rendering we find the venerable: Rainbow Bridge.  Recently renovated the bridge was painted shortly thereafter, and is a favorite "loitering" spot to watch families feed the ducks along the Canal.
Just across from the Rainbow Bridge, and "host" to the Monon Trial is the Red Monon Railway Bridge that crosses the Broadripple section of the Indianapolis Water Company Canal.
---
Nora:
Bordering North and Midtown is the Nora area.  Home to prestigious Williams Creek, Park Tudor School and Meridian Street Methodist Church, Nora also is home to quaint Monon Trail living and the Indiana Blind School.
Shopping is located along 86th Street and provides Nightlife, Groceries, Fast and Sit-Down dining and Brewpubs offerings.  Adjacent to Keystone at the Crossing to the East and Meridian Street to the West, Nora is conveniently located between the hustle and bustle of Midtown and the Sophistication of the North Edition.